The Book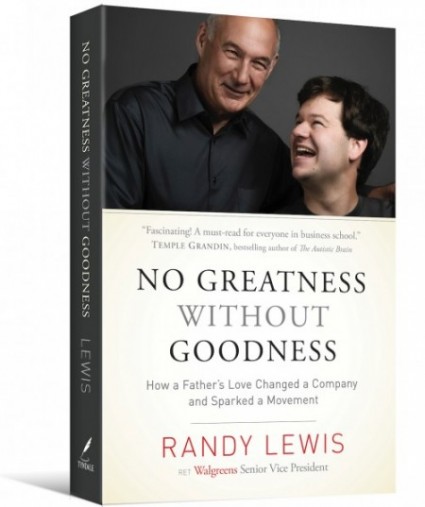 Randy Lewis bet his career that he could create an inclusive workplace at one of America's biggest corporations where people with disabilities could not just succeed, but thrive. No Greatness Without Goodness is the powerful story of a corporate executive who, after watching the world through the eyes of his own child with autism, Austin, realized that we all have a greater responsibility to make the world a better place for everyone, including those with disabilities.
As the Senior Vice President of Walgreens, Randy Lewis has created thousands of full-time jobs for people with disabilities. Read this firsthand account of what it takes to lead with courage in order to change people's lives.
BUY NOW
READ THE BOOK & DO GOOD!
All my proceeds from the sale of the book will go to selected charities based on readers' preferences. Your vote insures your pick will receive at least $1,000. – Randy
WHAT IS THIS ALL ABOUT?
The story behind the story…Randy Lewis talks about what the book is about: the joy, the pain and ultimately the power of love in moving us beyond ourselves to make a difference. Drawing from the insight as a family with a child with a disability, he talks about what led him to launch an unprecedented disability hiring initiative at one of the world's largest companies and how it ended becoming much more than anyone ever imagined in changing how everyone looked at the world.


Something unprecedented…No one had ever built a large-scale production facility with the specific intent to have one-third of its workforce composed of people with disabilities -all performing the same jobs, held to the same performance standards, earning the same pay, working side-by-side. As the word got out about what we were doing, both ABC and NBC sent a team down to see what this was all about.

Washington wanted to know about it…After it was clear that our efforts to employ people with disabilities had exceeded all expectations,we were invited to testify before the Senate.  What they heard was not only that we were successful, they heard about how it changed our overall work culture, that we were sharing what we learned with other companies and that its most profound impact was on those WITHOUT disabilities.
After watching the Senate Testimony, watch the video that Senator Harkin talks about in his opening remarks that "blew him away!"